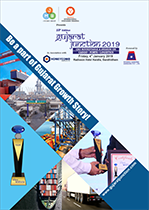 Mr. George Abrao, Managing Director, Abrao Group of Companies
It was our privilege to be associated with this event and thank you for the mileage provided to our organisation at the event.
---
Mr. Nityam Khosla, Director, Teamglobal Logistics Pvt. Ltd.
Congratulations again for a well organised event.
---
Mr. Sandeep Thomas, Founder, Smart Conexions
It has been my pleasure ever to be a part of this event starting right from Gujarat Junction 1 which was organised at Gandhidham Chamber of Commerce Hall. I have been a participant in every function.
I always looked forward to attend this event as it gave a great opportunity for all in the fraternity based at the corner of Kutch to host the who is who of the industry across India and to seek tremendous exposure on information and brainstorming deliberations which EXIM presents to the delegates and all attendees.
I need to admit that the knowledge and the connections gained by self because of the constant attending to this function year after year has tremendously assisted me to make good headway in my work in these organisations.
I have also been privileged by the invitation from EXIM on one year to be the Jury member which was a great experience to endure.
Special attention for the afternoon session with the Special Secretary Logistics. It was indeed a big worthy session, which I much appreciate.
Good to note that there had been more participants from the end user community this time. Nice to see that the event is getting more and more happening and evolving yet with the same spirit.
---