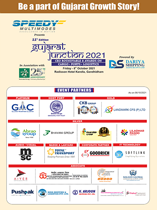 Mr. Xerrxes P. Master, Joint Managing Director, Master Marine Services Pvt. Ltd.
My compliments for kick starting the post pandemic events with a bang.
I wish you all the very best in your future endeavours.
---
Mr. Bibhudendra Maharana, Logistics Centre of Excellence Head, GE India Industrial Pvt. Ltd.
It's a very successful and impactful event after a long COVID19 break.
I am surprised to see attendance from very senior people as well.
Exim India is having it's importance and people has responded accordingly.
I have great respect for you and your esteemed organisation for this platform which helps to raise the concerns from the Logistics community and also from us/manufacturers concern to the Customs/Govt. officials.
Wishing you the best for the future programmes and looking forward to join also.
---