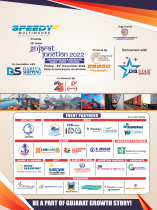 PRAISE FROM THE TRADE
Attendees were unanimous in commending the overall event - the well-formulated CEO Roundtable, wide-ranging awards and thoughtful felicitations. Among the views received, a few are expressed hereunder:
"The entire event was marked with extreme efficiency and I must commend your team for their efforts and thoughts in planning such a prestigious event to the minutest details."
- Capt. Sachin Garg, Terminal Head, Kandla International Container Terminal
---
"It was exemplary effort by your team in collating data & sharing with the judges to arrive at winner, very objective way indeed. I thoroughly enjoyed the process & evaluation process implemented. It was a wonderful event."
- Mr Mayur Karekar, Project Logistics Manager, Air Products
---
"It was a wonderful event."
- Mr Nirav Shah, Customer Service Executive, Adani Ports and Special Economic Zone Ltd.
---
"It has given our family a beautiful memory."
- Mrs Pallavi Manek, Wife of Late Mr Vinay K. Manek who was felicitated posthumously